Welcome to Timothy's World Coffee
Since 1975 when Timothy Snelgrove and his wife Theresa opened the first Timothy's coffee shop, quality was always behind this brand.
Over the past three decades, coffee lovers across Canada have continued to watch Timothy's World Coffee make no exceptions to the passion and commitment of providing the world's finest coffees. Timothy's only purchases the top 1-5% of the world's finest Arabica beans that are custom roasted in small batches to guarantee quality and freshness. Our cafés feature over 40 types of beans and coffee blends to enjoy at one of our locations or to take home by the pound.
In 1986 when Timothy's was purchased by Ian and Becky McKinnon, the Timothy's brand began to expand with franchisees opening more and more world-inspired cafés across North America, while ensuring the quality of the coffee and customer service remained a top priority. Timothy's is also dedicated to working with organizations and communities such as the Rainforest Alliance and Fair Trade Coffee who are committed to environmental and social responsibility.
Timothy's has also partnered with Keurig allowing our cafés to sell the largest variety of Timothy's branded K-Cups (single unit coffee pods), for use in Keurig's line of single serve brewers. Customers can now purchase these Keurig products directly at our cafés so that they can enjoy the variety and freshness of Timothy's coffees any place, any time.
Today there are over 30 Timothy's cafés franchised by MTY Group across Canada in key office towers, shopping malls and on busy streets in major markets such as Toronto, Ottawa, PEI and Edmonton. At every Timothy's café you will see our appreciation of good taste extends to the look and feel of our warm and inviting cafés and to the decadent beverages and food we make available for all our guests. Timothy's world is waiting for you. We welcome you to come and explore and experience our cafés today to savour the aroma and flavour of the finest and authentic coffees from around the world. One sip and you'll understand why we are worlds ahead of the competition.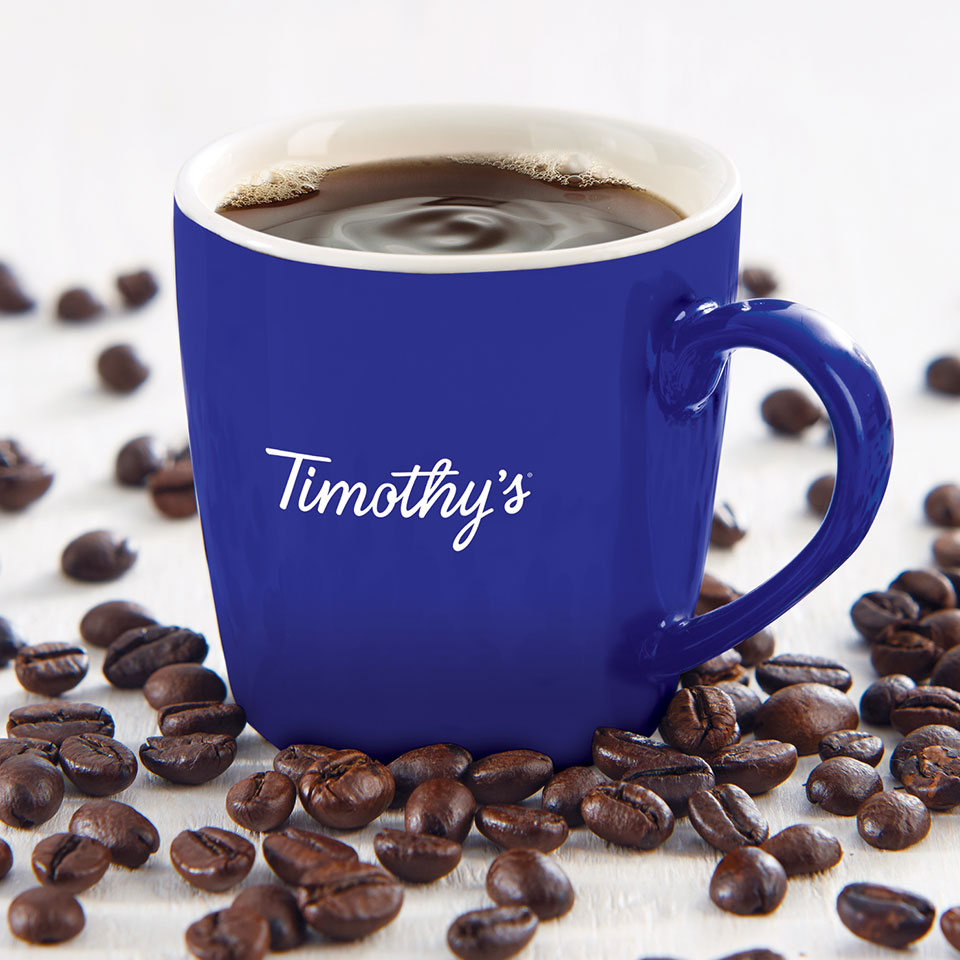 Timothy's believes that in order to have a quality brand you must have quality people. Our success over the years has been due, in great part, to our strong commitment to our employees personal development and professional growth. As our brand grows we are constantly looking for talented people who will bring value to Timothy's World Coffee in a variety of roles within our cafes and corporate office. We welcome you to send your résumé to 
masha@mtygroup.com,
marysec@mtygroup.com,
or
jonathann@mtygroup.com
  if you are interested in a career with Timothy's.